Home Inspections for Rockford and the Surrounding Areas 
Same Day Inspection Reports
The home inspection standard is to return reports within 24-48 hours. But at HomeShield Inspections, we believe you deserve much more than merely standard service. That's why we return inspection reports on the same day! We're also available 7 days a week for your convenience.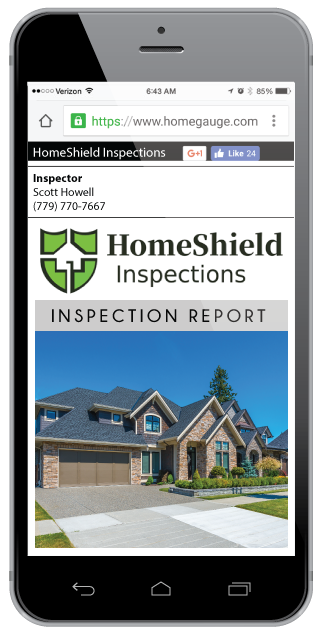 HomeShield Inspections Service Menu
Our services were designed with the needs of Rockford, IL area home buyers and sellers in mind. We focus exclusively on residential inspections to help buyers get timely service. After all, we understand how hectic buying a new home can be, so we strive to make this part of the experience as easy as possible for you!
With 5+ years of home inspection experience and 30+ years of experience in the home building and remodeling industries, you can rely on us to document the numerous pros and cons of your new house.
Buyer's Home Inspections
Pre-Listing/Seller's Inspections
New Construction Inspections
New Construction Phase Inspections
11-Month/Builder's Warranty Inspections
Save Even More Time with the Create Request List™
HomeGauge's Create Request List™ offers buyers, sellers, and agents numerous perks, and we provide access to this invaluable tool for free with every home inspection. You'll be able to review your report and all applicable photos online. Even better, you'll have the option to easily create your home repair addendum without any copying and pasting. You can also collaborate with your agent and email your results to anyone you choose.
Investigative Home Inspections
Many home inspection reports tell you what's wrong with the house in question, but they fail to provide any details about why this issue exists. We take a different approach by investigating issues to find out their root cause. We also love having clients join us on inspection day. This gives us the opportunity to further educate buyers about their new home.

Clients Are Our Top Priority  
When you choose HomeShield Inspections, you'll become our top priority and will benefit from our customer-friendly business practices. More than 1,000 inspection clients have already benefited from our clients first approach.
Open 7 days a week.
Evening appointments available.
Receive your report on the same day as the inspection.
We hope you'll join us during the walkthrough for a hands-on education about your new home!
We offer support that goes beyond the inspection report. If you have any questions about the report – even months from now – feel free to call us.
Our Service Area
HomeShield Inspections is based out of Machesney Park, IL.  We perform home inspections throughout the Rockford Metro Area, including Roscoe, Belvidere, and Winnebago.
Book Your Inspection with HomeShield Inspections Today!  For the fastest response, please text us your name and the property address to be inspected.